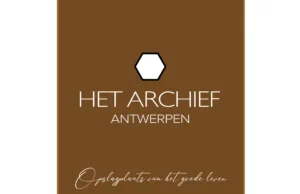 THE PLACE
Everyone knows the iconic Boerentoren, fifty meters from here, a design by the trio Van Averbeke, Vanhoenacker, Smolders. (1931)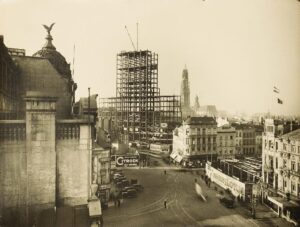 Everyone knows the iconic Boekentoren, more than fifty kilometers from here, in Ghent, a design by Henry van de Velde. (1930)
No one knows the metal book tower you are in. One of the first, if not the first metal book tower in continental Europe. A design by genius engineer Théodore Lebens. (1850)
Time to make some change in this obscurity.
Welcome to HET ARCHIEF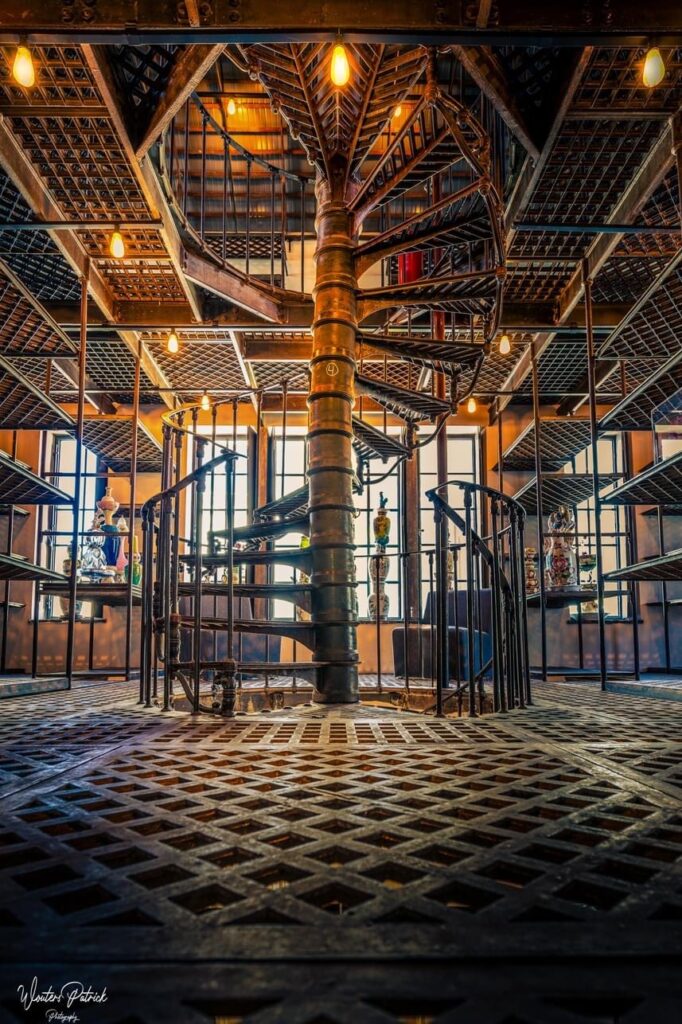 The archive
Welcome to this revolutionary (!) building that was designed in 1851 and is a jewel of architecture, technology and functionality.
Our business is called THE ARCHIVE because this name, er, is rather obvious.
More than one hundred and seventy years ago, this building was built to house the books and archives of the Province. The facade of this building is sober and unobtrusive. The interior of this building is sober and very striking. This place hides a groundbreaking and groundbreaking vision.
You stand in an interior that consists entirely of cast iron from head to toe.
You are standing in a hidden gem that, except for an exceptional period of five years, was closed to the outside world for more than a century and a half.
You are standing or sitting in one of the most impressive metal buildings in Europe.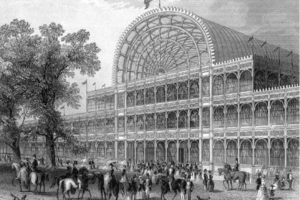 The Crystal Palace in London, founded for the World's Fair in 1851, was built in the same year as this archive. The magnificent Crystal Palace is one of England's first buildings to rest entirely on cast iron components. It enjoys enormous fame worldwide.
In England, before the technique was also used for buildings, cast iron was already used for the construction of greenhouses and bridges. Melting and forging iron and designing complicated constructions with this material was a craft that the English mastered like no other.
They, pioneers, became masters of their craft. Engineers and architects from the Continent lit up their lights across the Channel. They brought the art and craft of wrought iron architecture to continental Europe.
Some examples?
Think of the historic suspension bridge in Antwerp's Stadspark, a design by Eduard Keilig, a German landscape architect with a soft spot for England. The iron suspension bridge dates from 1867, when 'this Archive' had already existed for almost twenty years.
Also think of the Eiffel Tower, which was built twenty years later, in 1887.
Though you don't have to go that far.
The monumental Sint-Felix Pakhuis (1863) on Godefriduskaai on Het Eilandje rests on cast-iron pillars – less than half an hour's walk and you are there.
The book store of the City and Heritage Library (circa 1880) on Hendrik Conscienceplein, where our other business BOHM & Berkel also grows and flourishes, is also a jewel of cast iron. Just like the gallery of the imposing and imaginative Nottebohmzaal in the same Heritage Library.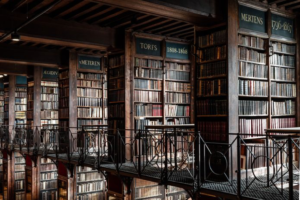 Photo: © Lucid
Just casually.
Not that the cast-iron constructions in our country went without a hitch: the casting and assembly of the numerous parts of this archive, for example, caused all kinds of complications. As a result, the construction of this archive was delayed. But the problems were all solved by cast iron manufacturer Galler in Liège. Wallonia and its metallurgy: the duo has a long history.
Fun fact in between.
The top step of this archive, in other words on the top floor, could not be formed and forged by Atelier Galler until the entire staircase had been installed: on 20 July 1852.
It is of course no coincidence that this Archive is made of cast iron.
Fire safety was the motivation for the builders to choose this material. An archive with wooden racks and shelves was not an option. That is why this was originally a detached house: the risk of fire was thus reduced.
Only the ground floor consists of bricks. That's because the boiler room is where you entered.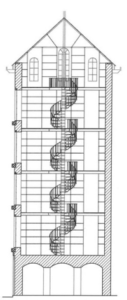 The four floors above are made entirely of cast iron: floors, stairs, pillars, bolts and connecting pieces, the central spiral staircase with a hollow metal spindle that, O genius Theodore, functions as a stovepipe: thanks to the cast-iron construction, the heat from the boiler room is automatically conducted over the entire building.
Naturally, all book and archive racks are also made of cast iron.
Another fun fact.
If we placed all the modular wall racks one behind the other, that path of metal gratings would take you from our front door to the MAS, the Museum Aan de Stroom. Here are more than 1 kilometer of bookshelves.
This property is protected heritage.
No changes may be made to this archive.
We respect this protection. In fact, we honor and appreciate them.
We may close the metal floor grates, with their large meshes in which every shoe heel gets stuck, with carpet. Yes.
But with that carpet we are infringing on the genius of the designer. He has avoided gaslighting – because gaslighting poses a fire hazard. What does gaslight have to do with floor grates? Thanks to the large meshes in the metal floor grilles, daylight can enter through the windows on all floors. Swirling. Because too much daylight and too many windows were not possible for engineer Lebens either. Light turns paper yellow. And the archive and the archivist do not want that. That is why all windows are gracefully equipped with artfully custom-made metal inner shutters!
There is much more to tell about this property.
You could write a book about it, shall we say 🙂
We don't.
What you might still like to know: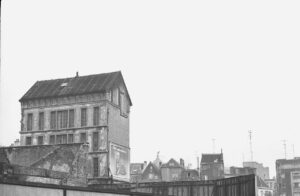 This whole corner was flattened by a V2 bomb at the end of World War II.
Thanks to the cast iron inner skeleton, this archive remained intact.
Although the facade was damaged. And in the pivot of the central spiral staircase, the cast iron is cracked or broken here and there.
One of the hypotheses of the causes of these fractures is: impact of the bomb that devastated the neighborhood here in December 1944.
The archive was evacuated around the war years, and books and material were given shelter elsewhere.
This building was empty for decades. Key on the armed doors.
Naturally, the building has been thoroughly restored since its existence.
On the outside anyway. The interior has not (yet) been taken care of. Because, thanks to its intactness, there is no need for it.
In its approximately one hundred and seventy-five years of existence, this building naturally had several owners.
It is no longer owned by a government agency, nor by the diocese in whose flanks the archive is housed.
Today this unique building is owned by a sympathetic and heritage-loving private owner, who rents it to us.
Another fun fact.
About the Geefsstraat, of which THE ARCHIVE occupies house number 5.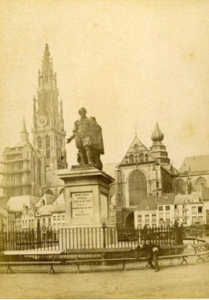 The Geefsstraat is named after the artistic Geefs family, which includes no fewer than eight sculptors. One of these sculptors is Willem (Guillaume) Geefs, who lived from 1805 to 1883. The statue of Pieter Paul Rubens, looking this way on its pedestal in the middle of the Groenplaats, is of Willem Geefs hand and head.
open on , Friday – Saturday and Sunday, from 12 noon to 8 pm.
you can enjoy on the spot and/or take the good life with you or have it delivered to your door.
Ad Bibendum wines – Van Tricht cheeses – Dierendonck charcuterie
Beers from small breweries and some hits from large ones
THE ARCHIVE is open to small events.
The third and fourth floors can also be temporarily operated by a cultural organizer, an artist, a company…
All conditions to be discussed with Ernst.
HET ARCHIEF
GEEFSSTRAAT 5
2000 ANTWERP
(+32)468221251 /ERNST
Sources: thanks to the work 'Provincial Archive Building in Antwerp' by Linda Van Langendonk, Hilde Vermolen and Anne Malliet. Many thanks also to Inge Bertels, architectural historian with a great weakness for this hidden gem.